Një trakt i hedhur në Shkodër, në dhjetor të vitit 1948, dëshmon se qyteti që nuk pranoi kurrë t'i përulej regjimit komunist, po rezistonte edhe pas 4 viteve të mbushura me ngjarje të përgjakshme, pushkatime e tortura të panumërta.
Përgjatë gjithë vitit 1948, ishin shënuar në qytet, shumë raste të grupeve të të rinjve që kundërshtonin hapur regjimin e Enver Hoxhës, përmes parullave nëpër muret e shkollave, trakteve të shpërndara kudo nëpër qytet, etj. Strukturat e Partisë Komuniste ishin gjithnjë në alarm, ndërsa Sigurimi i Shtetit gjithnjë në aksion për t'i zbuluar këto grupe e për t'i goditur.
Por, të rinjtë shkodranë nuk kishin ndërmend të dorëzoheshin. Ata bënin thirrje për ta rrëzuar regjimin gjakatar të Enver Hoxhës e për t'i dhënë fund bishës komuniste.
Trakti ishte zbuluar nga strukturat e Partisë në Shkodër dhe gjendet bashkë me një grup shkresash, ku flitet për trazirat antikomuniste në këtë qytet gjatë vitit 1948, në një prej dosjeve të fondit 14 në AQSH.
Kujto.al – Arkiva Online e Viktimave të Komunizmit, e sjell si më poshtë tekstin e këtij trakti:
Origjinali
V.T  SH.SH.
Vllazën Shqiptarë
Bish Komuniste po zapton  Botën prandaj bashkohuni por ta përmbysun këtë.
Viti i Ri i ardhshëm le të na gjejë me fitore të reja.
Poshtë Bisha Komuniste!
Area degli allegati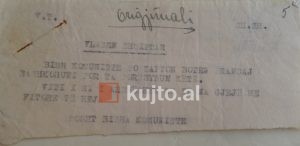 In case you are aware of crimes, victims or events related to the communist period in Albania, click here to publish it in our archive.